"The Colonial Pipeline Cyber Attack: What Happened And Are You Next?"
Webinar Details:
LIVE: Thursday June 10
Time: 11:00 a.m. – 11:45 a.m. CDT
Can You Confidently Answer These Questions?
Do you have Cyber Insurance and will it pay out if you suffer an attack similar to Colonial Pipeline?
It took Colonial Pipeline 5 days to come back on line. How long would you be down if you were attacked?
What is the true hourly cost of network downtime and how long will it take you to recover from a data breach?
Do you have the information needed to make rational decisions regarding your computer network?
Are you compliant with all government regulations and deadlines regarding protected data and can you prove it?
Is your network properly backed up and protected? Are you sure?
Who Should Attend?
Practice Owners, Managers, and C-Level executives who are concerned about: lost or stolen devices, privacy of confidential information, employment litigation introduced when employees use personal devices to access company data and State and Federal laws that carry heavy fines for lost or stolen data. This is of particular importance for those organizations that handle ANY sensitive data such as medical records (or serve clients who have medical records), credit card and financial information,  or who simply want to avoid having their bank account wiped out due to a cyber-attack.
During This Webinar You'll Discover:
What caused the shutdown of 45% of fuel deliveries to the eastern seaboard.
How Colonial Pipeline recovered from the attack.
Why it took five days for Colonial Pipeline to come back on line.
Who attacked Colonial Pipeline and are you next?
How you can minimize your risk of attack.
Simple oversights that could nullify your Cyber Insurance
Why 60% of businesses that suffer a cyber attack are bankrupt within a year – and how to avoid it
The #1 security threat to your business that anti-virus, firewalls, and other security protocols are defenseless to.
What are the essential components of a cyber risk mitigation strategy and disaster recovery plan?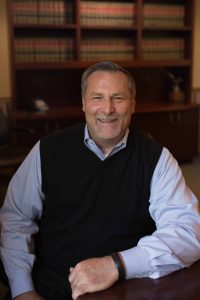 Mark Greene is a co-founder of Stryker Networks with over 35 years of IT service and support experience. Mark is a recognized expert witness in Computer Forensics with a background in Criminal Justice from the University of Illinois. He has helped hundreds of companies protect against and recover from cyber attacks and data breaches.
Important! We hate spam as much (or more!) than you and promise to NEVER rent, share, or abuse your e-mail address and contact information in any way.